IDRA 2.0 | IDRA 2.E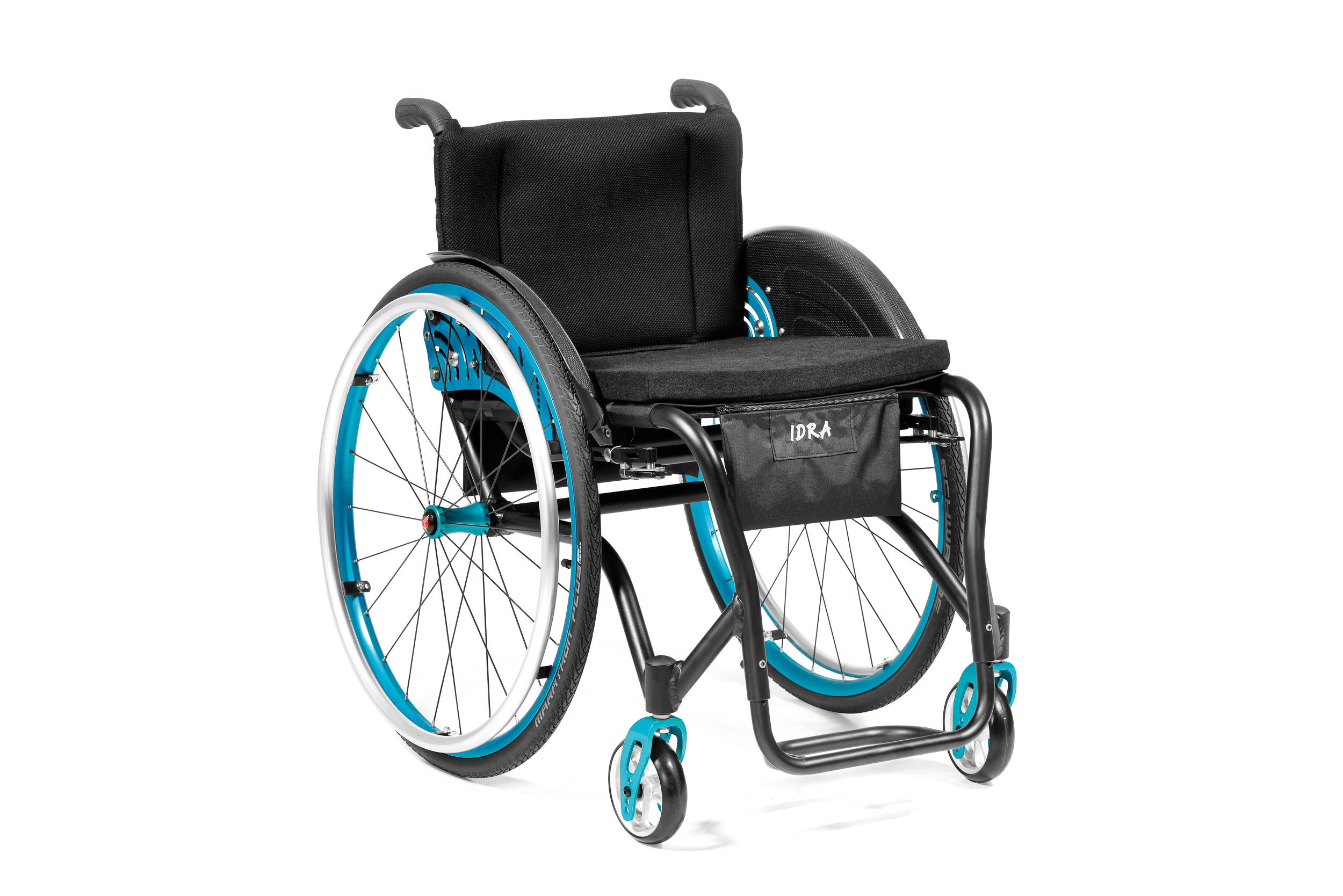 EASY AND SMOOTH
The orthopaedic wheelchair IDRA 2.0 is to be considered the aluminium sister of QUASAR. A wide range of possible configurations contributes to confirm IDRA 2.0 as a reliable and strong aid. The ultralight frame made out of aluminium is elegant and easy in its lines. Pushing IDRA 2.0 is easy and smooth, just give it a try to understand its potential.

NEVER ENDING COMBINATIONS
Aluminium involves a great variety of choices on the frame, like the colour you want your wheelchair to be. IDRA 2.0 becomes the wheelchair made for you and on you. Offcarr produces tailor made aid since 1982 and every single request is accompanied by a technical drawing and its features. The production process starts with the customers' measures: the wheelchair has to be perfect for the person needing it.
ELEGANT CURVES
IDRA 2.0's design and the elegant curves generates an ultralight orthopaedic top quality wheelchair. Harmony and strength match the customer's needs to ride a perfect, versatile aid.

ADJUSTED ON YOU
IDRA 2.0 gives you the opportunity to choose among a rigid version or an adjustable axle version. The adjustable axle version allows you to change setup whenever you want to find your perfect balance. You just have to feel yourself on your wheelchair, and IDRA 2.0 helps in doing it.
IDRA 2.E : DETACHABLE FOOT-RESTS VERSION
DETACHABLE FOOT-RESTS
The IDRA2.E version with detachable foot-rests changes the rigid wheelchair concept. Generally rigid wheelchairs are endowed with a single foot-rest but IDRA 2.E can have the possibility to apply detachable foot-rests. They're perfect for reduced room into elevators, car travels or journeys. Just push a button and remove them to gain space.

CREATIVE RIGIDITY
Supporting your needs to have both detachable foot-rests and a rigid frame, the orthopaedic ultralight wheelchair IDRA 2.E is the best choice for a combination like this. Choosing a rigid frame for its smoothness and stability gets easier when you can have a special feature like the removable foot-rests. By clicking a button on the rear wheels you can use the quick-release axle to obtain a frame with a folded down backrest. Have fun travelling then!
HIGH QUALITY DETAILS
IDRA 2.E can give you the opportunity to build the perfect wheelchair for your needs. Offcarr builds customized wheelchairs since 1982 and every aid is designed and produced on request in Veneto, Italy. Offcarr wheelchairs are made out of carefully tested details: carbon fibre sideguards, tilt-adjustable and folding down backrest, anodized set (rear wheel rims if LIGHT model, forks, hubs and sideguard support).

CUSTOM MADE ON YOU
You are the gravity centre of your wheelchair: your experience and your needs are the points your wheelchair have to take into account. IDRA 2.E is the result of handicraft and years of improvement to match your requests.
Simple in its lines, harmonious, surprisingly well-finished.

Read the order form in the Documentation section to check all the available otpions for this wheelchair.
MEASURES AND WEIGHT